We should all be getting ready and preparing for our annual Medicare training requirements, certification release dates and upcoming marketing plan. As if you didn't know already, AHIP is coming just around the corner. We want you to have an amazing outlook on what is up ahead so stay tuned to Certification Central on the Western Asset Protection website agent dashboard for updates on cert openings, discounts on AHIP and more.
Compensation
CONGRATULATIONS, YOU'RE GETTING A RAISE FOR 2020!
This is the greatest increase in commission / FMV in over four years – THANK YOU CMS!
The Center for Medicare and Medicaid Services (CMS) has recently announced details regarding compensation rates adjustments and testing and training requirements for 2020. CMS says, "Before you can qualify to sell Medicare policies and earn a commission, you need to meet the annual training and testing requirements." To learn more, click here and also download the 2020 Agent and Broker Training and Testing Guidelines.
CMS sets the annual maximum compensation rates for agents. This is called Fair Market Value (FMV). Insurance companies must not pay more than the FMV in compensation/commission.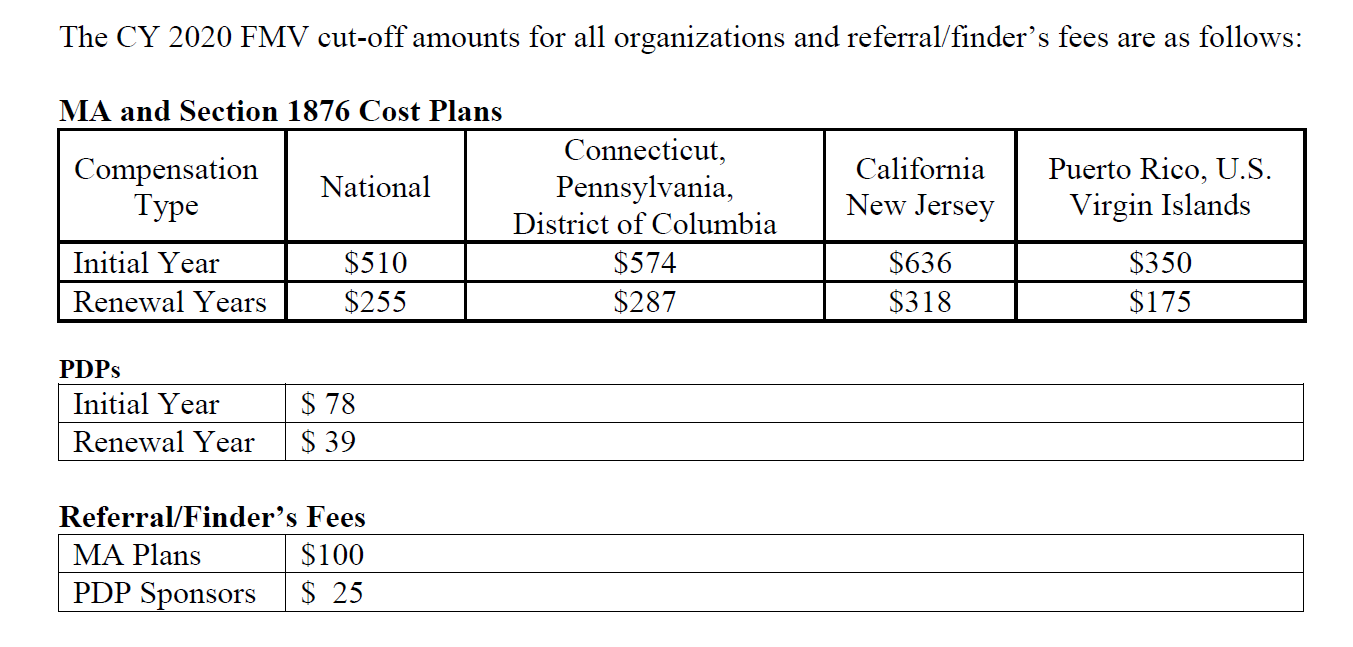 Training and Testing
AHIP – https://www.ahip.org/
The 2019 AHIP testing is coming to a close. if you want to sell any 2019 products, be sure to get this training completed, 2019 AHIP will no longer be available after 06/14/2020.  2020 AHIP will open shortly after.
**Remember if you must meet the continuing education requirement toward your license renewal, AHIP offers the opportunity to pay an additional fee to receive 6 hours of accredited CE hours.
Requirement: EVERY 4 YEARS 48 hours + 6 ETHICS, check your license status at www.sircon.com.
Contracts & Certification
There have been some carrier acquisitions and staff changes at the plan level this past season.  Be sure to check in with your carriers to make sure you have the most recent contract in place and get to know your broker managers.  Make sure that you have received the 2020 Ready to Sell notice with your writing ID number, before you sell any carrier products. Just because you certify does NOT mean you are ready to sell.
Goal Setting – Have 2020 Vision, Be Realistic!
First, set a realistic goal. How many apps do you want to achieve this year?  What is your WHY? Begin your PLAN OF ATTACK for the upcoming season (Training/ Retention, T65, Prospecting). Then address your time management and create calendar of events.
Your testing is a crucial thing to plan for. Remember, what you put in is what you get out. Choose a time when you can be relaxed and focused on your certs. Don't rush and DOWNLOAD THE MODULES to reference. Truly prepare.
Best Practices
Be sure all of your contact information and your e-mail address is up to date to receive upcoming important news.
Cert links will be on their way soon – Utilize our Certification Central for updates!
Is your E&O current? Do your carriers have an updated copy?
Submit a NEW W9 by 10/1 if there are changes.
Submit your AHIP and Fraud, Waste and Abuse certificate.
Attend WAPCon2019, September 11 and 12. This is your one-stop solution for all carrier rollouts. Watch your email for coming details.
If you have any questions or need assistance, we are here to help support you. Please contact us at support@westernassetprotection.com.